Tammy Burstein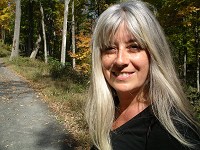 Tammy Burstein has been teaching Gabrielle Roth's 5Rhythms Waves practice since 2001, practicing the 5Rhythms since 1997, and living them since before she knew they existed. In January 2010 she was certified by the Moving Center to teach Heartbeat, the second of Gabrielle Roth's maps. She has taught up and down the eastern seaboard and internationally, including as a Core Faculty member at the Omega Institute in Rhinebeck, NY. She is a member of the staff of the Moving Center School New York, teaches two weekly classes in New York City and workshops globally. She has made her living as a dancer, a lighting designer, a travel agent, a librarian, and a personal organizer. She makes her life dancing the 5Rhythms.

"Tammy is an exceptional woman, teacher and DJ both on and off the floor. I encourage you all to experience the grounded, soft, wild dancing space that she has created …" – Jonathan Horan, Director of The Moving Center School New York.


Tammy Burstein is currently not instructing any classes.